Industrial Automation, Laser Material Processing: Interactive Virtual Tradeshow Booths, New From PI
Keep up-to-date with the latest developments in precision motion control while being safe during the COVID-19 pandemic.
June 2020, Auburn, MA – With tradeshows and conferences postponed, OEMs, researchers, MEs, and EEs in all fields are challenged to remain abreast of the most responsive, cutting edge motion control solutions. PI (Physik Instrumente) LP, the leading innovator of motion control solutions for 50 years, has launched a series of virtual tradeshow booths on their website, beginning with Industrial Automation and Laser Material Processing solutions.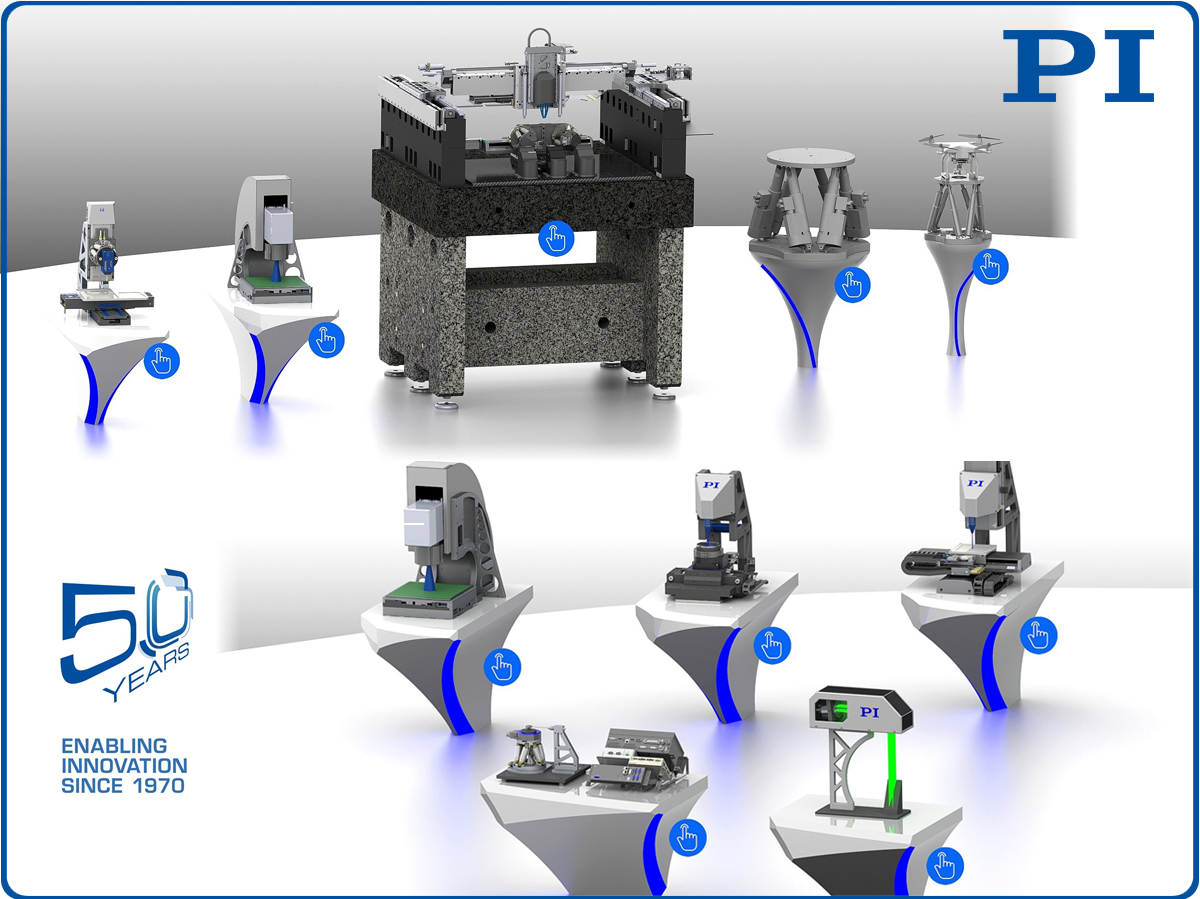 Assembly, semiconductor manufacturing, laser material processing, and inspection systems demand systems that are robust and reliable, while delivering submicrometer accuracy, exact position reproducibility, and high throughput. Laser processing automation additionally must deal with process, material, work cycle, ambient conditions, and criteria such as geometry tolerances, size of the machining surface, and contours. PI's virtual demonstrations explain how each system works and how the user benefits from its innovations.
Remote Live Demonstrations and Webinars
In addition to the virtual tradeshows, PI also offers webinars and individual remote live demonstrations, conducted by experienced application engineers.
Visit Virtual Tradeshow Booths»
Working with You
PI's in-house engineered systems and components have enabled customers around the world to increase their productivity and technological advantage for 5 decades. With a large basis of standard precision motion products and proven methodologies, PI is in the position to quickly modify existing designs or provide a fully customized OEM solution to fit the exact requirements of your application from the whole motion range from finger-tip sized nano-positioners to large scale stages with long travel ranges, through a plethora of different drives and guiding systems.
About PI
PI is a privately held company that designs and manufactures world-class precision motion and automation systems including air bearings, hexapods and piezo drives at locations in North America, Europe, and Asia. The company was founded 5 decades ago and today employs more than 1300 people worldwide. PI's customers are leaders in high-tech industries and research institutes in fields such as photonics, life-sciences, semiconductors and aerospace.
Source: PI (Physik Instrumente)
PI (Physik Instrumente) LP